Multiple Plan
Belgium is one of the most interesting countries as regards the evolution of design. With their generation of young designers, the regions of Wallonia and Brussels epitomise the highly effective strategy of using creativity to increase economic performance.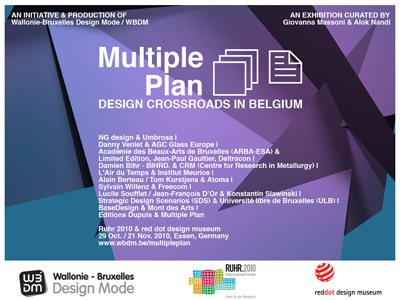 Architecture, handicrafts and design enjoy a centuries-old tradition and, in recent decades in particular, the two regions have focused on this know-how: new courses of study have been developed and grants set up. The "MULTIPLE PLAN" exhibition presents a cross-section of these new standards in design. Established and upcoming designers will exhibit a selection of outstanding works from the disciplines of product and communication design, not to mention innovative design concepts. The venue is the "red dot design museum" at the Zollverein colliery. It houses almost 1,500 exhibits, making it the world's largest collection of contemporary design. In addition, all products that have won a "red dot design award" will be on display for at least one year. The "red dot" is one of the most prestigious design competitions worldwide.
Organiser: Wallonie-Bruxelles Design/Mode (WBDM) with the support Wallonie Bruxelles International (WBI)
MULTIPLE PLAN. Design stories from Wallonia and Brussels
red dot design museum, Essen
29.10 – 21.11.2010
Curators: Giovanna Massoni and Alok Nandi
Opening: 28.10.2010, 6 p.m.
Closed Mondays; Tue – Thu 11 a.m. – 6 p.m.; Fri – Sun, public holidays 11 a.m. – 8 p.m.
€ 3 – 8
Unrestricted access (except the fourth floor)
L'exposition se déroulera à Essen (Allemagne) à l'occasion d'une grande manifestation: Ruhr Capitale européenne de la culture 2010 et dans le cadre prestigieux du Red Dot Design Museum. Cette organisation est à l'origine d'un des concours de design les plus connus au niveau international le Red Dot Design Award.
Multiple Plan signifie 'co-design', projets participatifs, oeuvres interdisciplinaires qui aspirent à trouver des solutions innovantes pour une société plus éthique.
L'exposition mettra en exergue une sélection de scénarios créatifs, projets et productions, objets (prototypes et produits) et documents, images et multimédia, qui témoignent des 'conversations', des processus de croisement- humain et technique- et des aspects prospectifs et visionnaires du design.
Les territoires d'investigation de ce projet font volontairement référence aux activités du Red Dot Design Centre: le design du produit, le design communicationnel et le concept design.
L'approche critique autant que la scénographie se construisent sur une narration d'histoires exemplaires et récentes de rencontres humaines, culturelles et techniques qui visent à créer l'excellence économique et la qualité multilinguistique du 'made in Belgium'.
Une initiative de Wallonie-Bruxelles Design/Mode
Commissaires : Giovanna Massoni and Alok Nandi
Scénographie : Architempo/Beaver
11 histoires de design :
NG Design & Umbrosa
Académie des Beaux-Arts de Bruxelles (ARBA-ESA) avec les étudiantes Amandine Lamand, Florine Giet, Sarah Crickboom, Olivia Clément, Delphine Beau & Limited Edition, Jean Paul Gaultier, Deltracon
Damien Bihr (BIHRD.) & CRM (Centre de Recherche Métallurgique)
L'Air du Temps & the Institut Meurice
Alain Berteau and Tom Kurstjens & Atoma
Sylvain Willenz & Freecom
Lucile Soufflet and Jean-François D'Or & Konstantin Slawinski
Strategic Design Scenarios (SDS) & Université libre de Bruxelles (ULB)
BaseDesign & Mont des Arts
Dupuis Publishing & Multiple Plan
Danny Venlet & AGC Glass Europe