Webinars
A list of webinars follows – These took place with designers, but also some were specifically done for design schools (ISDI, UID), others were for IxDA.
A series launched on May 29, 2020, is Design Open Happy, co-hosted with Sonia Manchanda, powered by Spread Design.
_ 15 June 2020 – Fuorisalone Digital
Since 2003, Fuorisalone.it has been the reference platform for Fuorisalone, an event that together with the Salone del Mobile defines the Milan Design Week.
The Salone del Mobile.Milano cancelled its 2020 edition, but Milan Design Week doesn't stop and Fuorisalone.it is going to introduce, from 15 to 21 June 2020, its brand new digital platform Fuorisalone Digital.
REDESIGNING THE SYSTEM (LIVE TALK)
A virtual round table moderated by Giovanna Massoni, questioning the way Belgian designers and companies reflect on the consequences of this very particular moment.
A broader societal commitment of design? The need of relocating / reducing the production and acting for a more responsible consumption? And what about pros and cons of a globalized world and international events?
AN INITIATIVE BY Wallonie-Bruxelles Design Mode (WBDM) and FlandersDC and MAD – Home of Creators for Belgium is Design.
A session moderated by Giovanna Massoni, with Alok Nandi, Alain Gilles and Jan Ameloot.
_ 6 June 2020 – MIND Leaders Live
Quoting MIND Leaders Live for June 6th 2020: "Meet Alok Nandi, zooming in from Brussels, Europe. He will talk about the gaps, the tensions and the frictions of place, design, UX in these moments of questioning and reimagining the next. It's all in the Mind." More via https://nandi.mobi/speaker/webinars/place/
_ 23 April 2020 – UID Masterclass
_ April 17, 2020 – State of Design, Now and Beyond
Moderating a session with the designers/leaders of three design firms based in India – Lollypop Design, Think Design and Fractal Ink.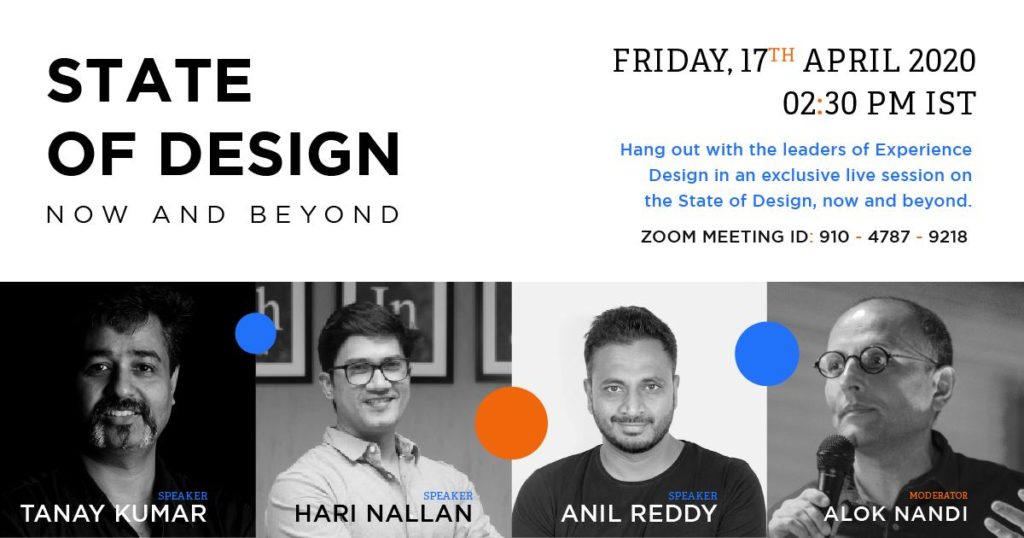 A recording of this session is on – https://vimeo.com/412832461
_ 10 January 2020 – IxDA Pune.
_ 26 September 2019 – IxDD World Interaction Design Day 2019 Mumbai, with IxDA Mumbai, Lollypop Design and ISDI
_ 26 September 2019 – IxDD World Interaction Design Day 2019 Hyderabad, w/ ValueLabs and IxDA Hyderabad
_ September 2018 – IxDD 2018 Tunis