Satyajit Ray
The Indian film maker Satyajit Ray was not only a film maker: writer, director, composer, editor, … but also designing fonts, sets, costumes, book covers and in parallel writing stories for children. A creative force shaping his oeuvre out of Calcutta (now Kolkata). In 1989-90, I was working on a book on the "architectures of Calcutta" and one day in the street where Ray was staying, I went and rang the bell, driven by my cinephile fascination. There he was, opening the door. This was the beginning of a fascinating journey, meeting the maker and then making a Homage book, as well as exhibitions and conferences, on his oeuvre.
A series of traces and archives of these early 1990's are put back here and shared. The book "Satyajit Ray at 70" was conceived and edited by Alok Nandi in 1990 /1991 with an exhibition at Cannes Film Festival 1991. The book had two versions: one in English and one in French.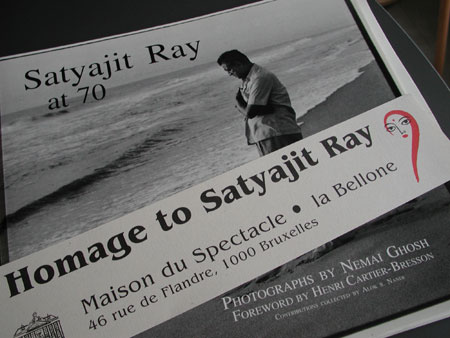 This was then followed by exhibitions in Paris, London, Aix-en-Provence, Nantes and Brussels.