MuseomixBE Brussels meet-up
Getting involved in the organisation of MuseomixBE with some museogeeks. A kick-off meet-up is taking place on June 13th 2014 in Brussels.
See you in Brussels at
Maison des Auteurs • rue du Prince Royal 87 • 1050 Bruxelles
June 13th 2014
18:30 to 20:30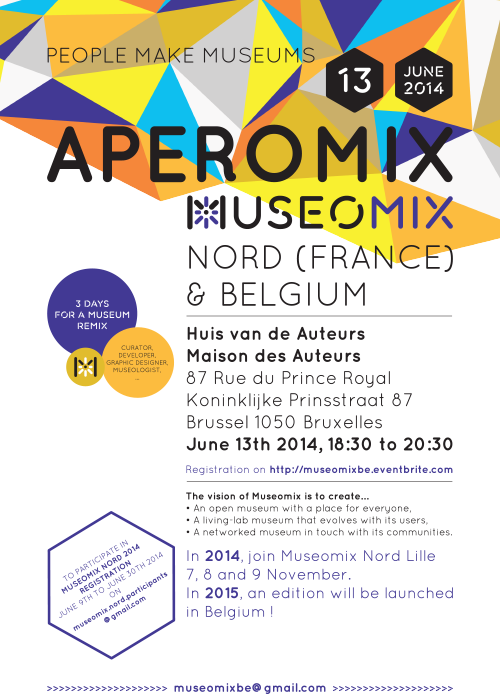 poster design by Emilie Blondeau
The vision of Museomix is to create…
• An open museum with a place for everyone;
• A living-lab museum that evolves with its users;
• A networked museum in touch with its communities.
La vision originelle qui porte Museomix
• Un musée ouvert où chacun trouve sa place,
• Un musée labo vivant qui évolue avec ses utilisateurs,
• Un musée en réseau auprès de ses communautés.
De visie van Museomix omvat de opstelling van:
• een open museum waar iedereen een plaats heeft
• een labo museum dat zich ontwikkelt met haar gebruikers
• een museum in netwerk met haar gemeenschappen.
More about Museomix on www.museomix.org