Design Open – Season 7 – DICE
On Thursday 26th of May 2022, Sonia Manchanda and Alok Nandi are co-moderating the DICE series, part of Design Open season 7.
To survive, to thrive. To be open to what's now and what lies ahead.
Let's decode emergence, sense shifts and immerse ourselves in the future.
Let's focus on what's emergent. Gain insights and make connections.
While design thinking energizes the head and hand, we here care about sensing the shifts, feeling the future and heart centered approaches to business and innovation.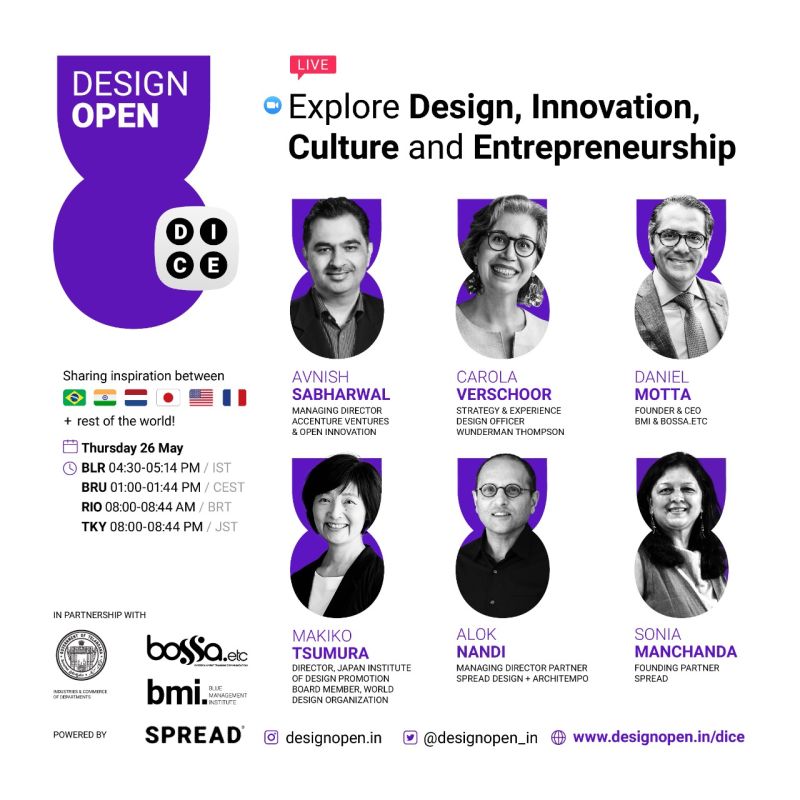 🗣️ 4 Speakers
⏱️ 44 Minutes
🌎 4 Geographies
Creating connections between the past and the future. Design and technology. VR and reality.
Shifts and risks. India and the world
Don't miss the first session of Design Open Season 7 / DICE 2022
Gain insights, be inspired, participate in the conversations that are shaping your tomorrow.
🗓️ May 26
🕠. BLR 4:30 pm IST
🕗. TKY 8:00 pm JST
🕐. BRU 1:00 pm CEST
🕗. RIO 8:00 am BRT
Registration via https://www.designopen.in/dice