Imaginary Cinematheque
In 1990, I had the occasion to meet Satyajit Ray in Calcutta (now Kolkata) and asked him his "Imaginary Cinematheque" (ses films coups-de-coeur) and was expecting some titles. He suggested I come back after two days. When back, wouaw, a list of 43 films … Some of these were shown in conjunction with a retrospective of Ray's films in 1993, in Brussels, at the Film Museum, in parallel to an exhibition I conceived a set of 4 exhibitions: on Ray's drawings, one on the architecture of Calcutta w/ photographs by Fabien de Cugnac, an exhibition on Portraits of Ray by Nemai Ghosh, and and and an exhibition on Henri Cartier-Bresson in India.
Alok Nandi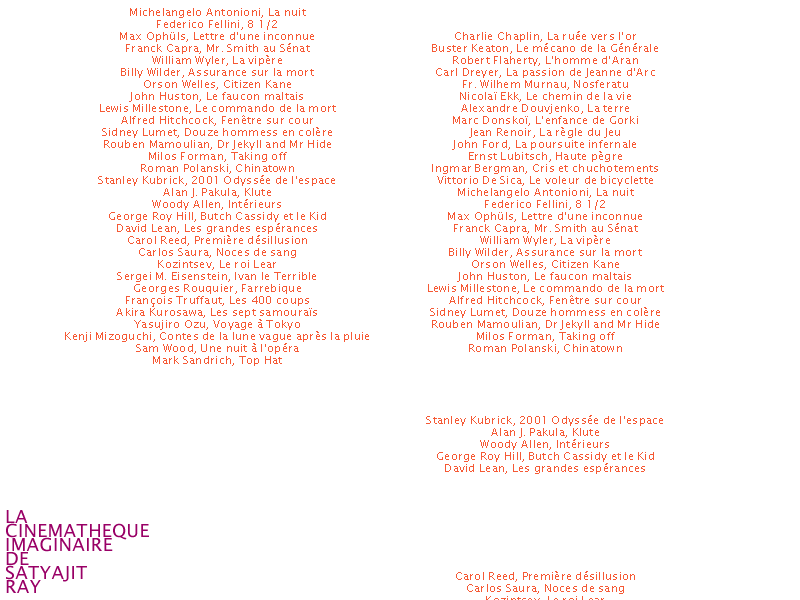 Charlie Chaplin – La ruŽe vers l'or
Buster Keaton – Le mécano de la GŽnŽrale
Robert Flaherty – L'homme d'Aran
Carl Dreyer – La passion de Jeanne d'Arc
Fr. Wilhem Murnau – Nosferatu
Nicola• Ekk – Le chemin de la vie
Alexandre Douvjenko – La terre
Marc Donsko• – L'enfance de Gorki
Jean Renoir – La règle du jeu
John Ford – La poursuite infernale
Ernst Lubitsch – Haute pègre
Ingmar Bergman – Cris et chuchotements
Vittorio De Sica – Le voleur de bicyclette
Michelangelo Antonioni – La nuit
Federico Fellini – 8 1/2
Max OphŸüls – Lettre d'une inconnue
Franck Capra – Mr. Smith au SéŽnat
William Wyler – La vipère
Billy Wilder – Assurance sur la mort
Orson Welles – Citizen Kane
John Huston – Le faucon maltais
Lewis Millestone – Le commando de la mort
Alfred Hitchcock – Fenêtre sur cour
Sidney Lumet – Douze hommes en colère
Rouben Mamoulian – Dr Jekyll and Mr Hide
Milos Forman – Taking off
Roman Polanski – Chinatown
Stanley Kubrick 2001 – OdysséŽe de l'espace
Alan J. Pakula – Klute
Woody Allen – IntéŽrieurs
George Roy Hill – Butch Cassidy et le Kid
David Lean – Les grandes espéŽrances
Carol Reed – Première déŽsillusion
Carlos Saura – Noces de sang
Kozintsev – Le roi Lear
Sergei M. Eisenstein – Ivan le Terrible
Georges Rouquier – Farrebique
Franois Truffaut – Les 400 coups
Akira Kurosawa – Les sept samourai•s
Yasujiro Ozu – Voyage à ˆTokyo
Kenji Mizoguchi – Contes de la lune vague après la pluie
Sam Wood – Une nuit ˆà l'opŽéra
Mark Sandrich – Top Hat
In 2016, I was contacted by La Cinémathèque Française in Paris, and they have programmed some films and set website on these films. In 1993, the Brussels Musée du Cinéma showed also number of films of this Imaginary Cinematheque, in parallel to Ray's films, as a retrospective.