Festival imPulsions
Naming and visual identity of this new festival of contemporary music by Architempo / Alok Nandi.
Le 2 avril, à 12h15, à la Maison des Arts de Schaerbeek et à 20h, à l'Hôtel de ville de Schaerbeek.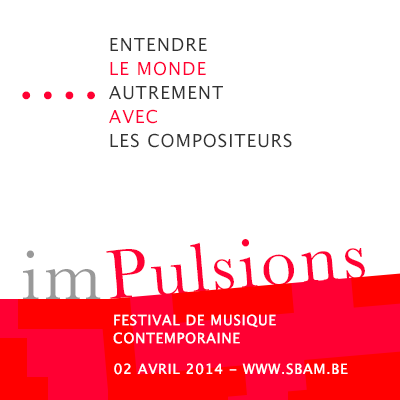 "imPulsions" est un tout nouveau festival de musique contemporaine qui s'inaugurera le 2 avril prochain à Schaerbeek, avec le soutien de l'Echevin de la Culture et de la Société Belge d'Analyse Musicale et Architempo.
Son directeur artistique, le compositeur, improvisateur et musicologue Stéphane Orlando, a voulu mettre en lumière les liens qui unissent les compositeurs de musique contemporaine aux compositeurs du passé ou à des genres particuliers, par exemple le jazz ou la musique savante indienne.
Quelle serait l'impulsion qui a permis à certains compositeurs d'imaginer certaines oeuvres musicales qui peuvent nous sembler parfois si surprenantes ?
La réponse à cette question pourrait nous sembler insondable dans certains cas ! Mais en donnant la possibilité à des compositeurs d'exprimer leurs motivations, imPulsions voudrait renforcer les initiatives qui visent à humaniser le visage de la création contemporaine. Pour ce faire, imPulsions laisse une large place à des jeunes ensembles de musiciens dont la réputation n'est plus à faire et qui brillent dans le répertoire contemporain.