Design Influences – Design Declaration
Design Influences is co-chaired by Regitze Hess and Alok b. Nandi.
It is an initiative on the part of the Design Declaration Steering Committee, consisting of the Bureau of European Design Associations (BEDA), Association of Universities and Colleges of Art, Design and Media (Cumulus), the International Council of Design (ICoD), the International Federation for Housing and Planning (IFHP), the Interaction Design Association (IxDA), the World Urban Campaign (WUC). Design Declaration Steering Committee activities are supported by representatives from member organizations – Eija Salmi (Cumulus), Regitze Hess (IFHP) and Brenda Sanderson (IxDA).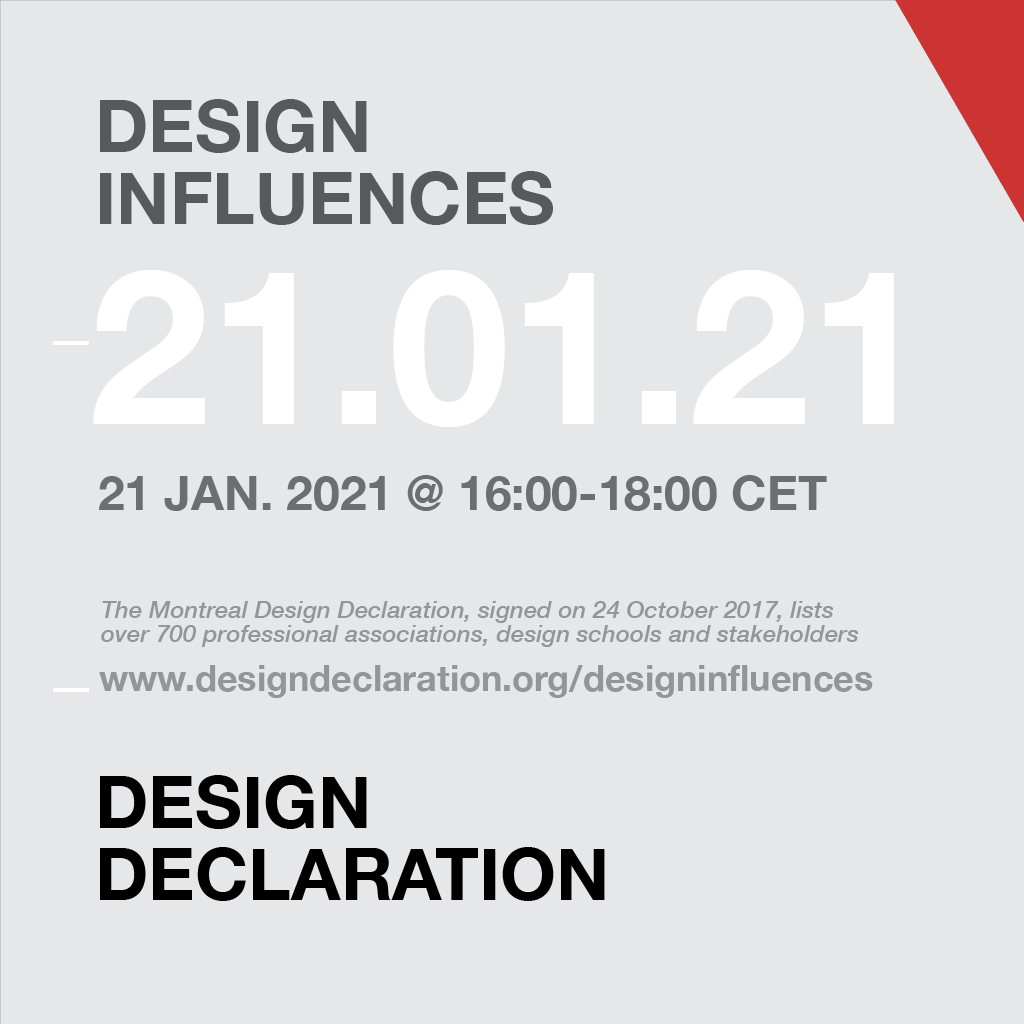 This on-line gathering is an opportunity to hear the voices of the 20 plus organizations underpinning the Design Declaration, along with thought leaders and experts, on the influences impacting design and how design can best influence.
Three years have passed since the signing of the Design Declaration in Montreal in 2017, and one and half has passed since we last convened as coalition around the Design Declaration in St. Etienne in 2019. The Steering Committee has since been making efforts to establish projects, as proposed in the Montreal Design Declaration, and has been advancing future Design Declaration Summit meetings at which additional Design Declaration iterations will be issued that will focus on a specific topics. These efforts of course have been impacted by the COVID crisis – a crisis that makes the Design Declaration effort evermore relevant and topical.
DESIGN INFLUENCES
A Zoom convening on 21 January 2021 @ 16:00 – 18:00 CET
To register, follow the link:
https://zoom.us/webinar/register/WN_H25OFZOFRwSBDdcEG7e4Cg
For any information, we can be reached by e-mail : designinfluences@designdeclaration.org
We are convening a spectrum of voices, instrumental to the Design Declaration, to share and hear what is influencing design and the design community and how design and the design community can influence.
Design Influences – what are currently the most significant influences on design
Design Influencing – how design is currently influencing the world around us
Design Influencers – who are at the crux of design